FOX, DELKIM
Review of best bite alarms in 2022
2022-03-11

So, what are the best bite alarm sets for fishing?
Fewer things in life are more enjoyable than casting out and battling a massive carp or catfish. But if you want to reel in a big fish, bite indication is paramount when fishing any water.. That's where having a reliable bite alarm will come in handy.
There are so many bite alarms on the market at the moment with all sorts of bells & whistles. It's really hard to know what to go for, especially if you are just starting out in the sport or have a set budget.
Follow our review, choose your best bait alarm
| | ND K9S | ND S9 | ND N1 | ND BEA | DELKIM Txi-D | FOX RX+ |
| --- | --- | --- | --- | --- | --- | --- |
| Battery | 2 * CR2 | 500mAh | 240mAh | 1000mAh | PP3 | 2*AA |
| Volume | yes | yes | no | yes | yes | yes |
| Tone | yes | yes | no | yes | yes | yes |
| Sensitivity | yes | yes | yes | yes | yes | yes |
| Bite LED | 2 * RGB | 1 * RGB | 1 * RGB | 2 * RGB | 2 * RGB | 2 * RGB |
| Night light | RGB | no | no | RGB | RGB | RGB |
| Drop back indicator | yes | no | no | yes | yes | yes |
| Power outsocket | yes | USB socket | USB socket | USB socket | yes | yes |
| Low level battery warning | yes | yes | yes | yes | yes | yes |
| Cone speaker | yes | yes | no | yes | yes | yes |
| Smart link | yes | yes | yes | yes | yes | yes |
| Snag bars | Light house | yes | yes | yes | yes | yes |
| Long range | 2 | 2 | 2 | 3 | 3 | 3 |
Loaded with the latest technology, both alarms and receiver working together seamlessly via a mobile app.
This makes a complete setup that is built to last and is packed full of technology designed to help you fish smarter.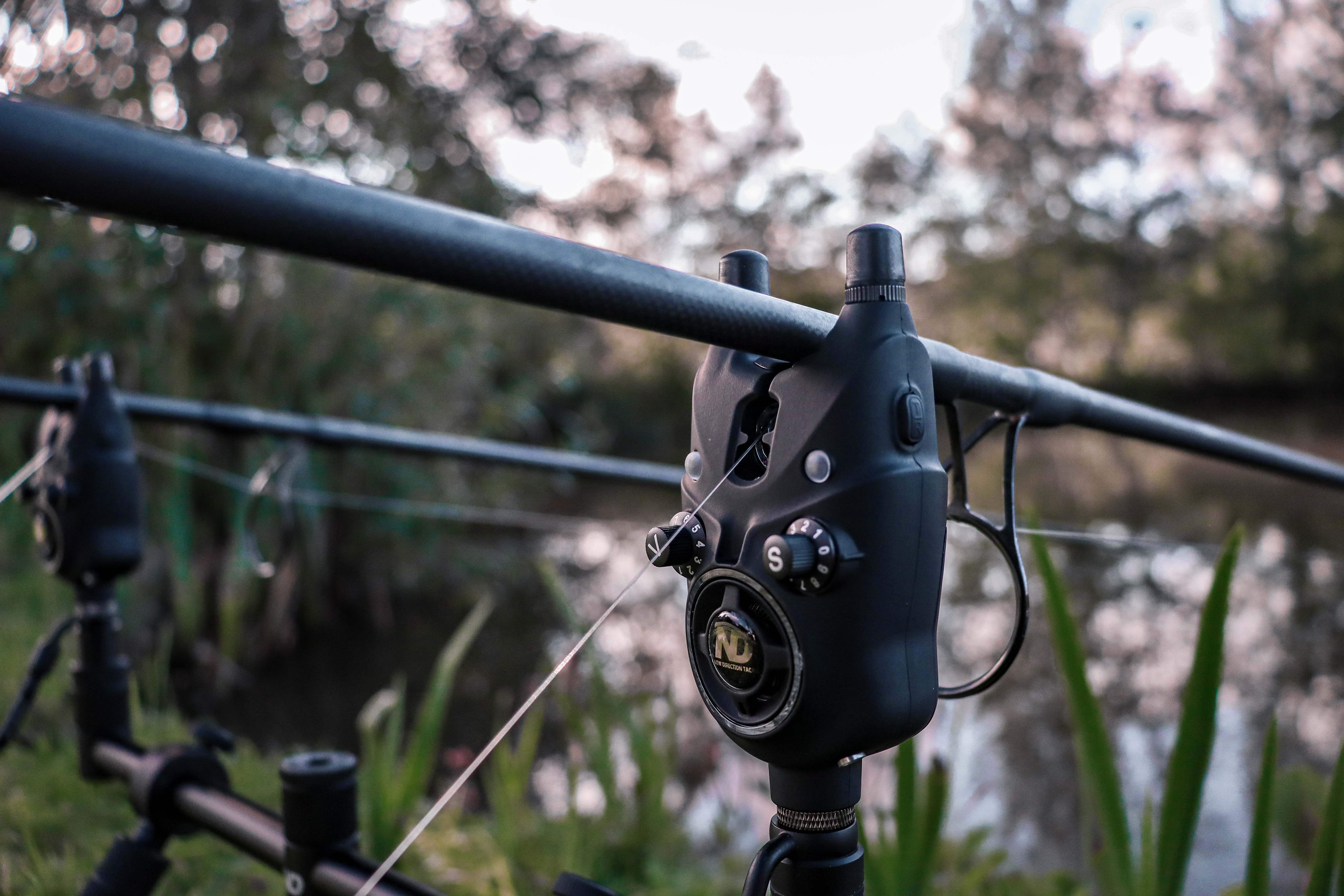 The remote control ability of these fishing alarms is one of the major selling points of these best bite alarms, as you can remain in the bivvy while you adjust the volume and sensitivity of your alarms. This one, from New Direction Tackle, features another great idea in the shape of a mobile phone app, from which you can also control your alarms.
Customer comments are very favourable, with particular emphasis on the ease of use and the range. The batteries for this bite alarm set are not the standard type: you need to buy ER14250M or C2 batteries, and we recommend you purchase them at the same time as the set. Overall, a very good fishing bite alarm set, but at a high price although you do get a nice carry case.
PRICE: starting at just £59.9
CLICK HERE TO BUY
All New Direction kit has a distinct, and stylish, look to it, and these new alarms are no exception. It's very difficult to stand out in the crowded bite-alarm market, but these tiny little heads have a real presence to them. The body of the alarms is just 5.5cm tall and 3.7cm across, but they pack a lot of tech into their diminutive frames.
Sensitivity has been hugely improved over the earlier K9 alarms. Incredibly, just 4mm of line movement is needed to signal a beep on the highest sensitivity setting, and there are nine other settings if you want more flexibility.
In short, these alarms have all the functionality you could wish for, while looking unlike anything else on the market. You will certainly stand out from the crowds with these on your buzzer bars.
PRICE: starting at just £40
CLICK HERE TO BUY
The N1 alarms have to be the most compact set of alarms I've ever tested. They are half the size of most alarms I've had my hands on and about 1/4 the size of my Delkim TXI-D Alarms. While it's great to have a smaller set of alarms and less weight to haul around, the small size does have some drawbacks.
The N1 bite alarms are a Roller Wheel style of alarm that allows them to be small and compact. When the roller wheel activates the sensor, it alerts the angler via a single LED light on the alarm. It also alerts the angler via the receiver with a light and audible tone or vibration.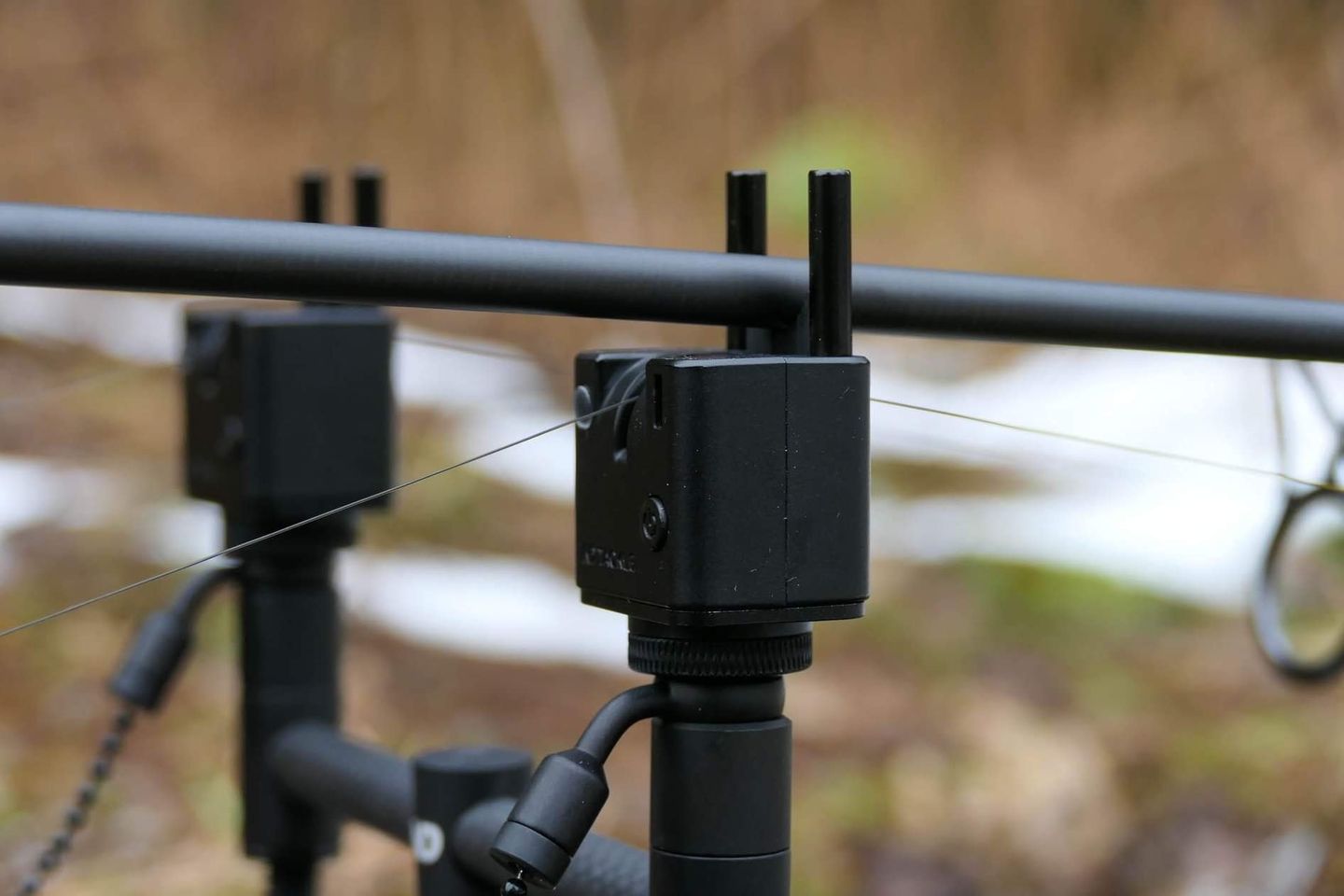 These alarms easily fit in carry bags. Some alarms can be big and bulky and a pain to transport. This entire set with receiver fits nicely within one compartment of my bivvy bag. They also come in a sleek, compact and durable carry case.
PRICE: starting at just £45
CLICK HERE TO BUY
4. New Direction BEA bite alarm
COMING SOON, STAY TUNED
IT'S BEEN MORE THAN 15 YEARS since Delkim released a new top-end bite alarm, so it is no surprise that anticipation and expectation around these has been sky high. Replacing the Txi, the Txi-D was in development for a decade, which is pretty staggering considering the current trend for products with a short shelf-life. That long gestation period is understandable, though, when you consider the task of improving on what had been the bite-alarm benchmark around the world for many years. The Txi-D is still instantly recognisable as a Delkim, but there are plenty of upgrades hidden beneath its exterior.
Put an old Delkim Txi next to the Txi-D and you will instantly notice the new version is slimmer and more compact. You will also notice a couple of elements have been removed completely. There is no longer the toggle power switch on the bottom, nor a tone dial. The sensitivity button has also been renamed, but more of that in a mo.
Unlike previous Delkims, the Txi-D has two push buttons on the front. These act as controls for various functions including the power and new daytime and night-time glowing modes. You can also adjust the brightness of the LEDs, which are now situated further up the ears for better visibility.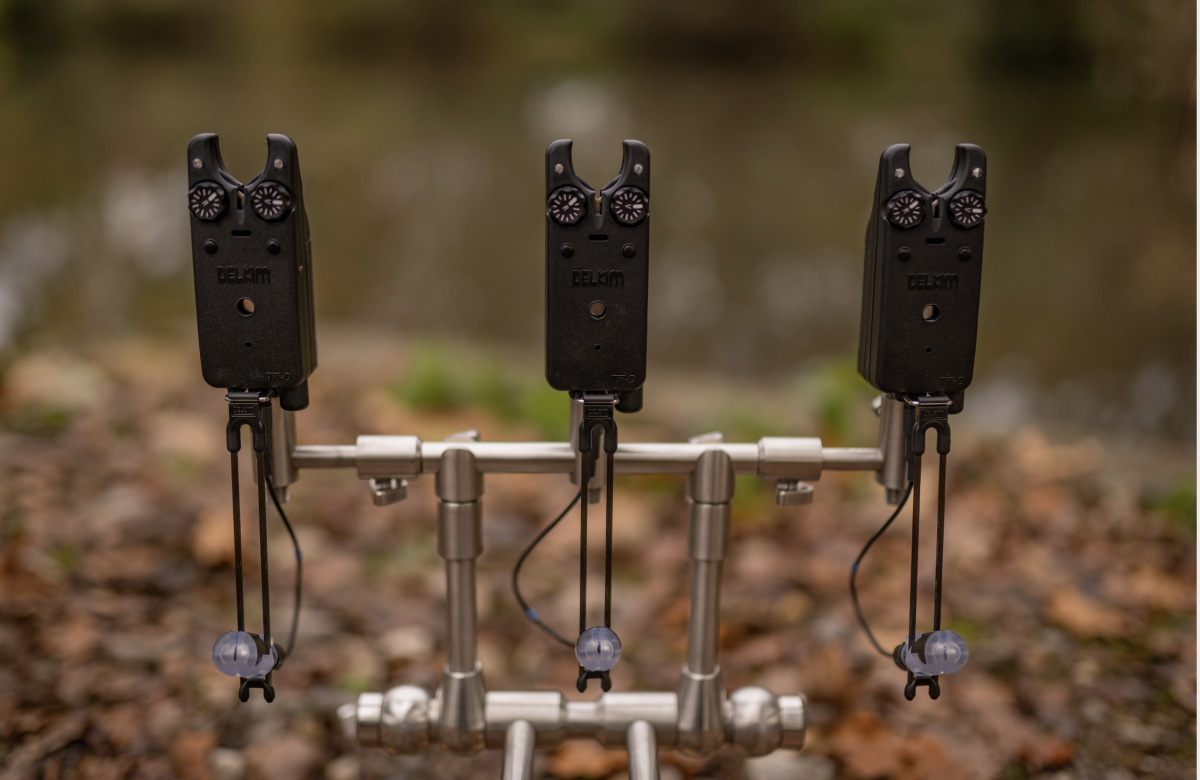 The S dial for sensitivity of old has now been replaced with R for response. Delkim believe this better reflects the alarm's unique vibration-sensing technology. It's very similar to sensitivity, but the new Digital Signal Processing system incorporating Beep Speed Control means you can keep a high response but slow down the beep speed (and vice versa) giving you a better understanding of what caused the alarm to sound.
PRICE: starting at just £137.49
CLICK HERE TO BUY
YOU JUST KNEW that when Fox resurrected the vaunted RX name, the alarms would be pretty awesome, we mean, they had to be, right? After all, the original Micron RX Digitals are still in active service today, and many consider them to be the ultimate alarm! Of course, Fox has released some fabulous alarms since the original RX – look no further than the NTX-R, an alarm that has found favour with loads of top anglers that we can think of (many of whom have no sponsorship ties with Fox at all). Well, after a hush-hush testing period that has seen the new RX+ alarms tested to destruction, we're pleased to be getting a privileged first look!
You can adjust volume, tone and sensitivity via numbered dials, to customise the performance of the alarm to your taste. There's even a night mode, which makes the LEDs glow faintly which is rather lovely.
The development team has clearly done rather a lot of work improving the performance of the line-sensing part of the RX+. In order to reduce false indications, the guys implemented something called See-Saw elimination. Basically, the alarm will only sound if line travels a distance specified by the sensitivity dial, in one direction only, for a set time. If it goes forward, then drops back immediately, like line does in windy conditions, the head won't bleep. We don't know how they've done it, but we're mighty glad they have!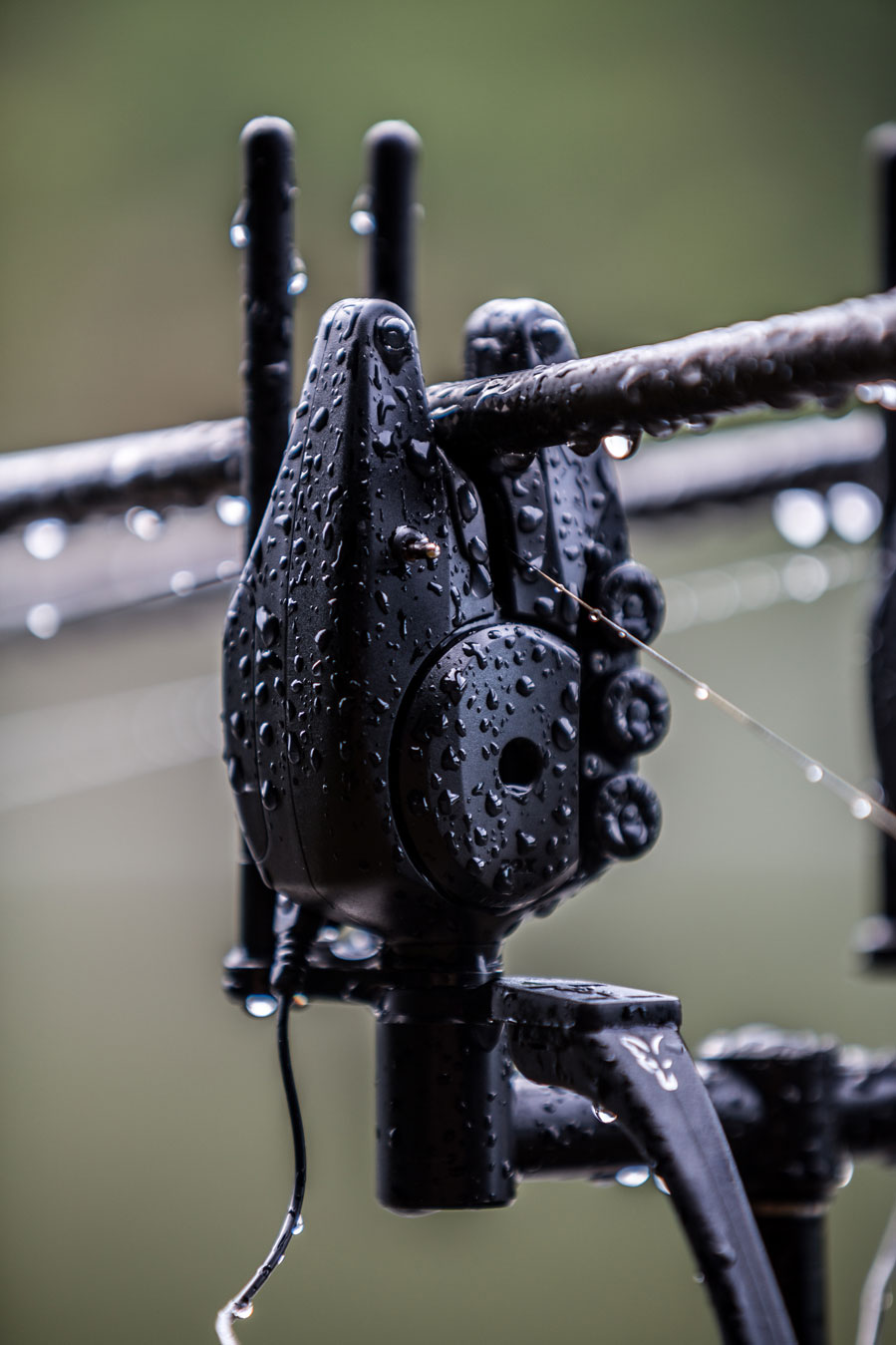 Very occasionally, we just run out of space to tell you about all the great features of a product and this is one such time. All that remains to be said however, is that we really do think that the new pretender to the RX throne looks to be the real deal!
PRICE: starting at just £229.99
CLICK HERE TO BUY