bait boat 2,
NEW DIRECTION TACKLE | Smart Bait Boat 2 Review
2022-02-15

New Direction has fast become one of the go to tackle manufactures for intelligent, tech related carp tackle, and this latest addition to the already extensive range is no exception! A harmonious blend of tech, unique fea-tures and most importantly a product that will make your angling easier and you a more effective angler at that.

If you aren't familiar with the original Smart bait boat launched by New Direction a few seasons ago the concept was simple: a durable and reliable bait boat with built in bluetooth functionality. After the resounding suc-cess, the Smart bait boat 2 is ready to hit the water.

Sporting a lightweight Carbon design, the Smart bait boat 2 pulls the scales around to a rather minimal 5.5kg, and considering the two inde-pendent hoppers can house 3kg of bait we feel that is fairly impressive in-deed.

The boat itself has a very minimal, sleek design and finds its power from two high-performance propulsion engines which can run for 4miles on a single charge! These provide the angler with exact control over the vessel with pinpoint accuracy even at range, while creating minimal disturbance. Two rear and front lights are highly visible when the boat is in use, allow-ing you to keep track of the bait boat even in low light conditions.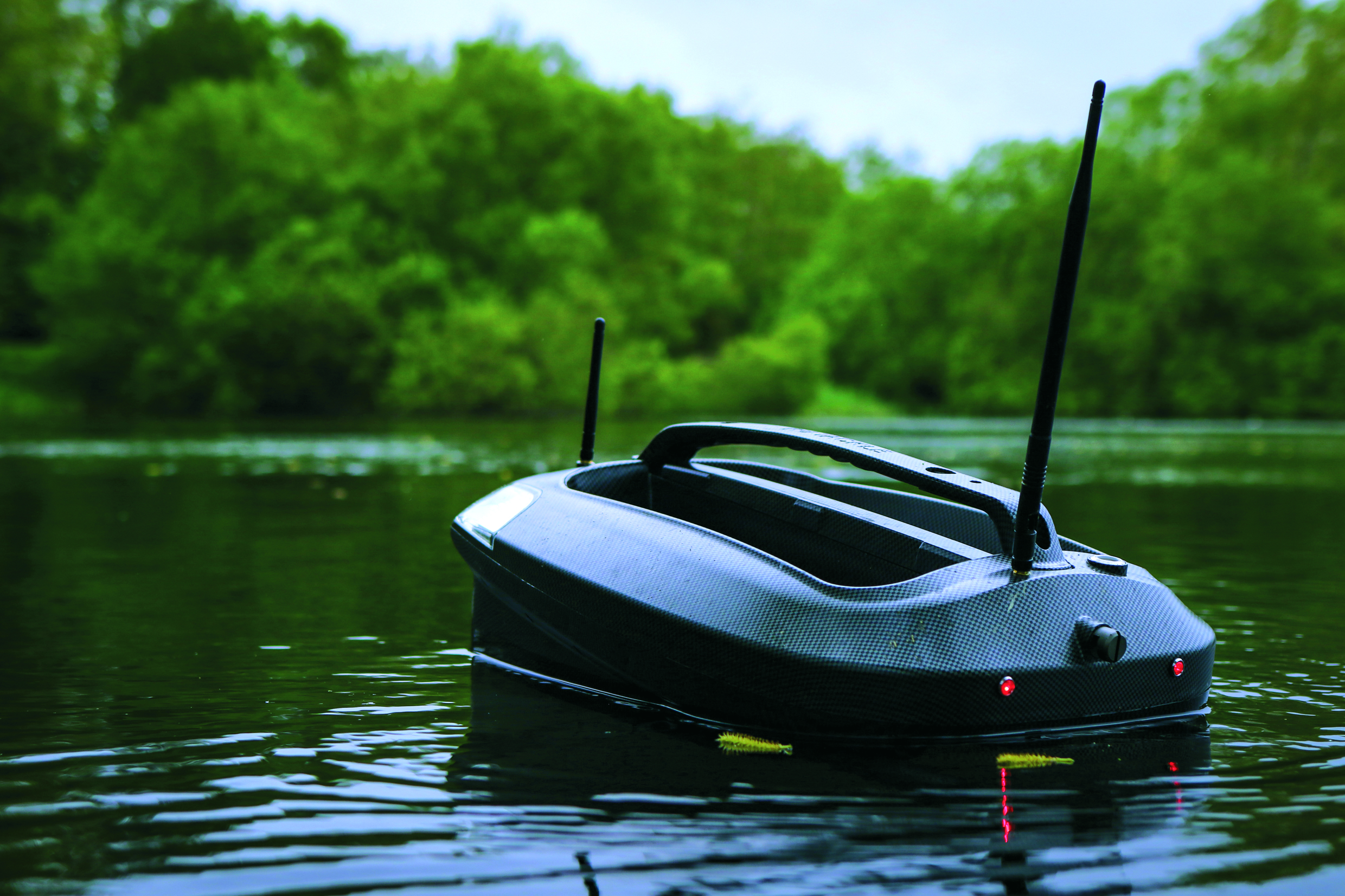 Also using your boat in the dark has never been easier thanks to the dedicated App with built in GPS function which allows you to save and store GPS points which your Smart bait boat can efficiently search out time and time again using the Autopilot function (purchased in App; £199). With a click of the button the boat will return to shore right where you launched from.
There are several functions we really like on the design and construction of the boat, firstly the simple and ingenious unique one hand controller. As the name suggests you can now operate your boat with just one hand, al-lowing your other hand to hold your rod, control your line lay, or even watch your boat through binoculars. You can control your speed, direction, save GPS way-points and other functions with just one hand, now that's genius!
With a fully integrated mobile sonar option, discovering your venues topography couldn't be simpler; you can search out depression, weed beds and other underwater otherwise hidden features you would like to target all whilst keeping your presence to a minimum. Then by saving such fea-tures you can quietly distribute bait and present a rig all in a matter of moments.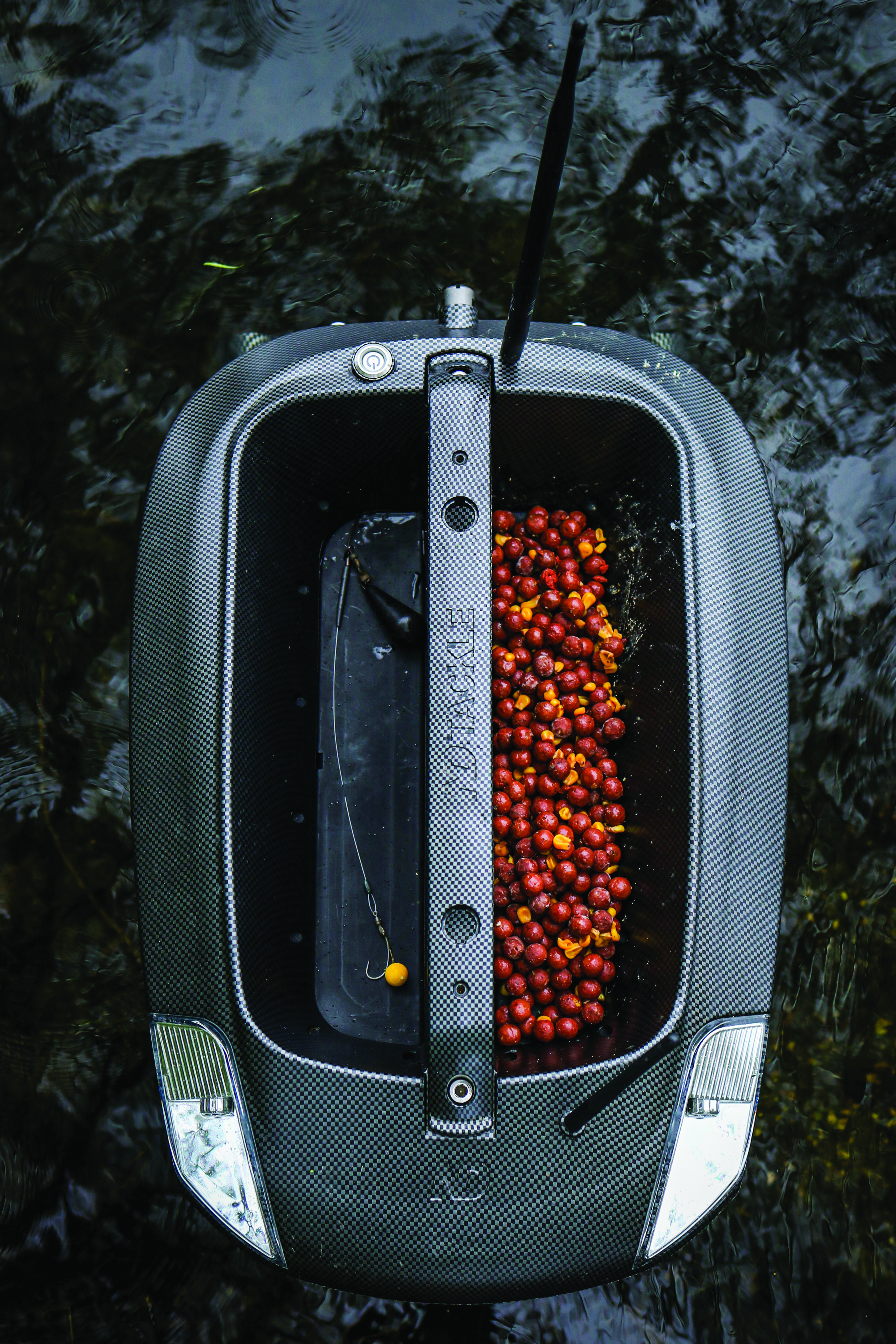 Last but certainly not least is a simple but effective feature we are fans of. The unique rear hook release mechanism allows the angler to drop their rig independently of their bait, allowing unrivalled precision and effective presentation. Whether you want to fish over or even just off your baited spot, this feature allows you to do so and of course ensures the hook will never get obscured by the bait in the hopper.
If you are new to the world of bait boats, or perhaps you are a veteran of the boating world, then the Smart bait boat 2 should be on your sonar. Easy to operate, with a multitude of functions and some ingenious unique little touches designed to get your fishing quicker and more effective than ever before!