Clever Scadle,Fishing Tackle
Place Item In Weighing Area
2022-02-14

WHAT HAPPENS when you mix a luxuriously padded unhooking mat with some weighing scales? Well, this: a brand new, hassle-free (for both you and the fish) way of dealing with a carp on the bank when it comes to unhooking, weighing and photographing. Confused? Here are all the answers to those questions flying around in your head right now…

Am I looking at the most expensive carp cradle in the world? That is certainly one way of looking at it, but you're missing the key feature if you're under the impression this is just another cradle for unhooking and photographing fish in. At each of the four corners is a pressure pad, meaning this cradle weighs your fish while holding it safely and securely. Just like the bagging area at your local supermarket's self-service till!

That's something I never expected to see! Yes, it's an interesting one! Overall, it means your prized capture is subjected to less handling and moving about compared to traditional means of weighing. You can also get an accurate record of every fish you catch—even the ones you wouldn't previously have weighed—because the whole process is part of the unhooking routine and the weight automatically flashes up on a screen.

This sounds like a heavy contraption to me… This is ND we're talking about, so it's got a carbon-fibre frame! All in, including the carry bag, the Scadle weighs just 3.8kg and packs down to 70 by 40 by 15cm. When in use, it measures 120cm by 69cm, which is big enough for most carp out there. The frame offers support at the top and the bottom—ND call it a double-layer frame—so the legs won't buckle or splay out under the weight of a large fish and the whole unit remains solidly planted.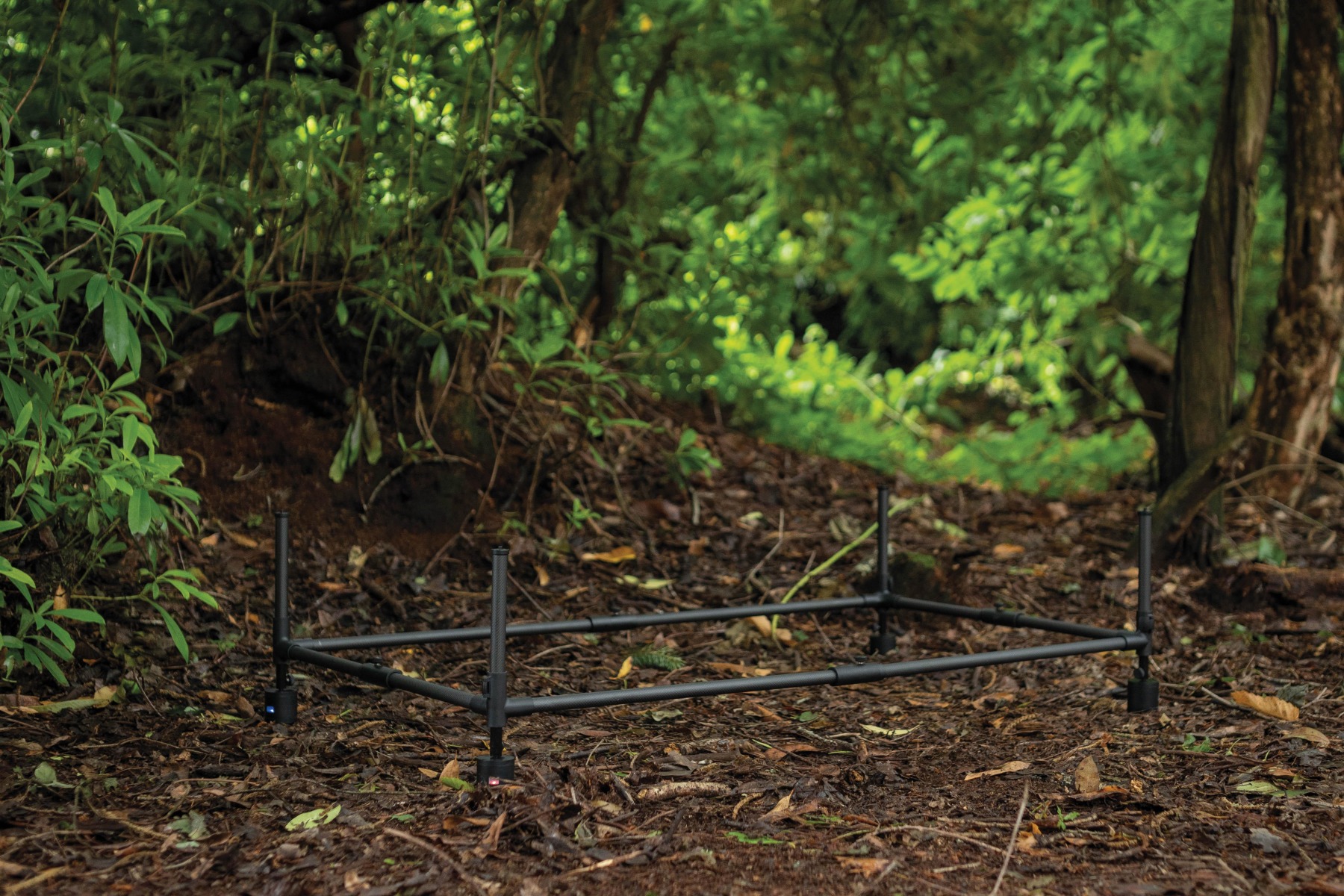 Okay, tell me more about the scales… The information from the pressure pads is sent to a small wireless display unit, which you can keep in your pocket. It's got a colour digital display which will tell you the weight of your fish in pounds or kilograms. It can weigh up to 50kg (110lb) and New Direction say it's accurate to within 100g, which is 3.5oz.
Another piece of kit that needs batteries, then? It does need power, yes, but it's plug-in rechargeable and ND say its low consumption means it can be used for more than seven days continuously on a single charge.
Hit me with the cost… It's £299, so your first assessment was correct, but it obviously isn't your bog-standard cradle. And like all ND kit, it's available on Amazon with free delivery.